Oil & gas businesses face challenges from cost volatility, supply uncertainties, and disruptions. This impacts production efficiency and increases costs.
To tackle these issues, businesses utilize supply chain design and optimization solutions. These solutions enhance visibility, control, risk management, and operational continuity.
THE TOP CHOICE FOR COMPLEX SUPPLY CHAINS
Trusted by supply chain teams at leading global companies
Supply chain leaders use AIMMS to generate savings and revenue
€10
million+
revenue increase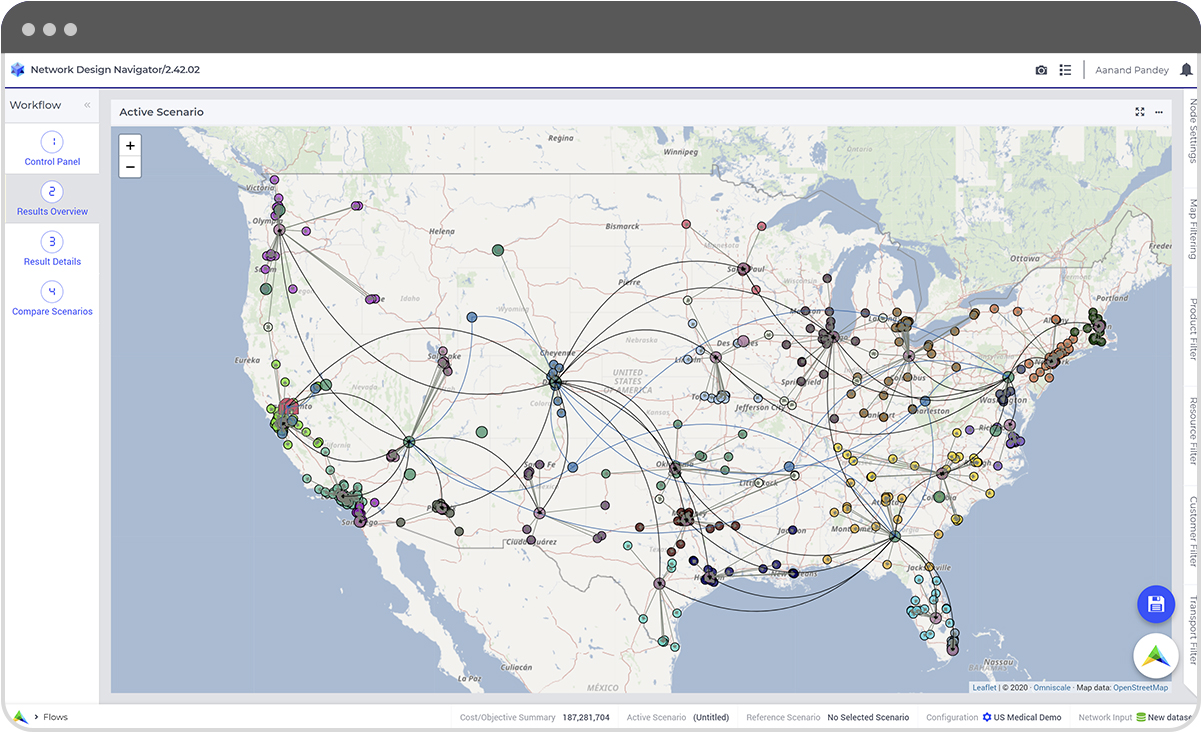 Supply
Chain
Network
Design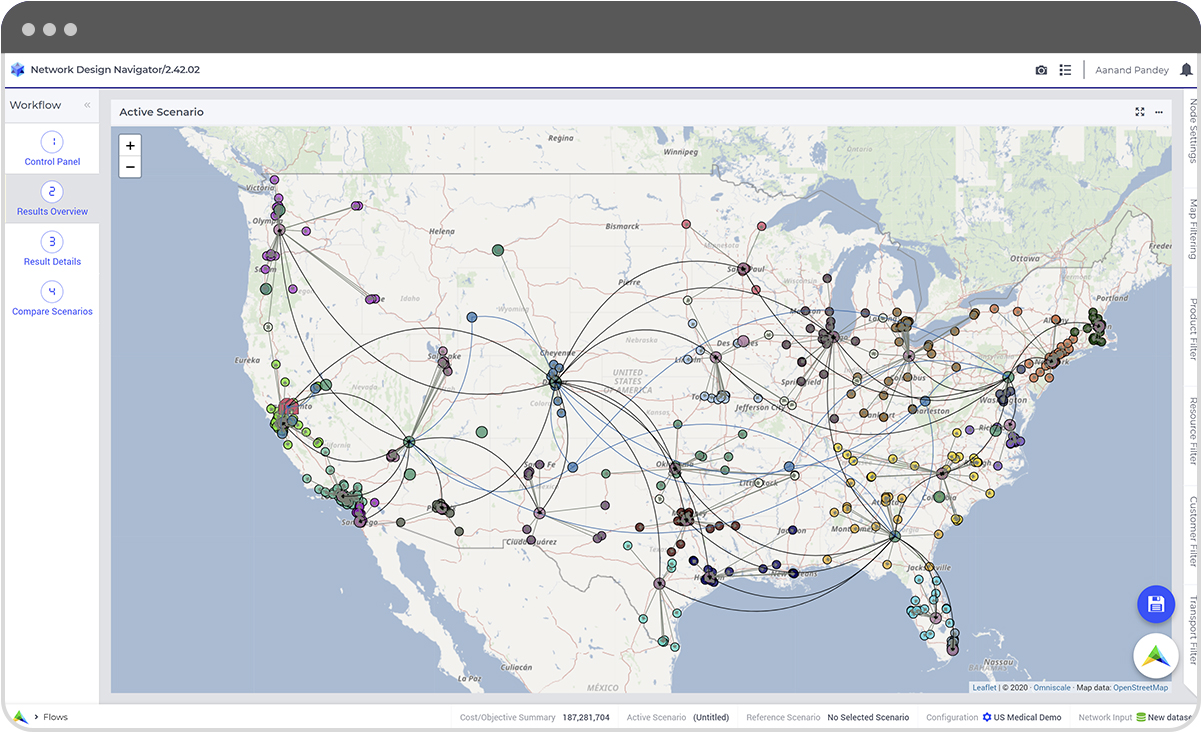 SC Navigator is an off-the-shelf scenario planning and analytics app that helps teams make optimal supply chain design and tactical planning decisions based on hard data. 
– Easily visualize and understand your current supply chain
– Test countless scenarios and create optimal designs
– Identify critical trade-offs
Bespoke
Optimization
Apps
The AIMMS low-code platform is a toolkit for rapid modeling and app development of mathematical optimization applications.
– Model any business and research problem
– Run countless scenarios in realtime
– Create modern web-based user interfaces
– Complements AI/ML
A
tool
to
make
the
right
decisions.
"GMOS (Global Manufacturing and Logistics Optimization System) has helped us to optimize our supply chain and select the feedstock with the best commercial terms at any given time. The folks in the petrochemicals business really trust this tool to help them make the right decisions."
Jim Nastoff
Global Marketing Manager – Higher Olefins and Derivatives at Shell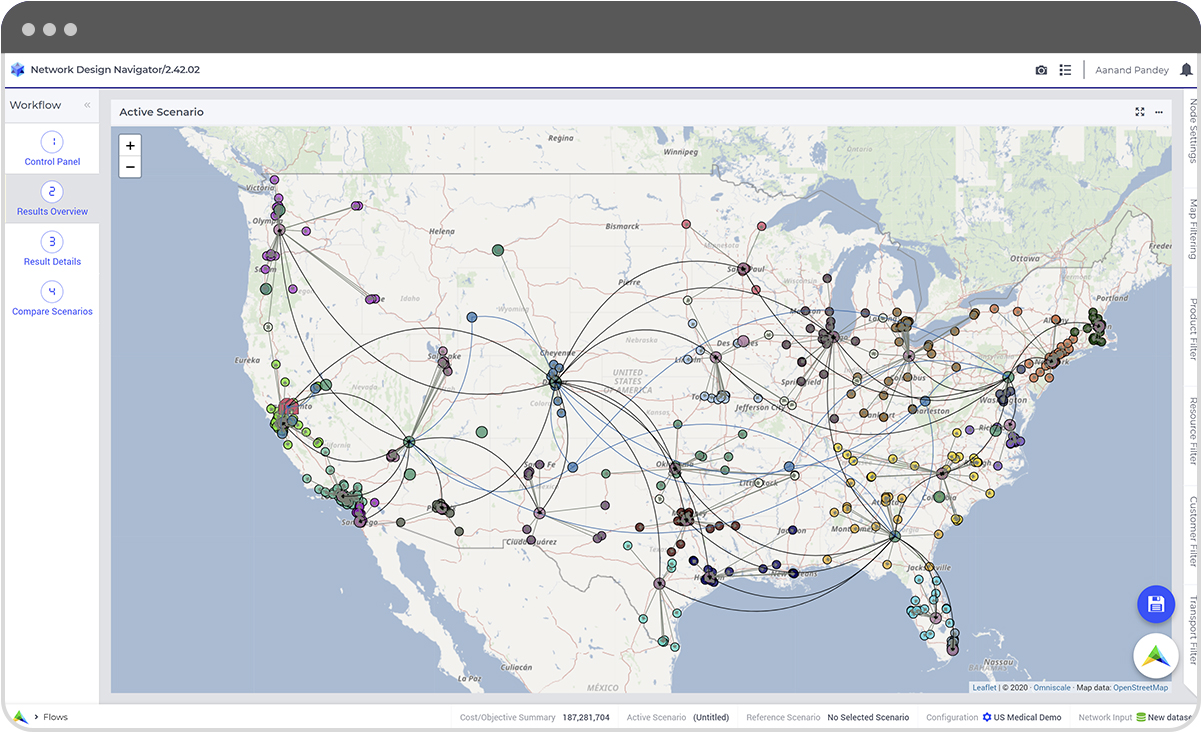 Managing
complex
and
lengthy
supply
chains
Your Challenge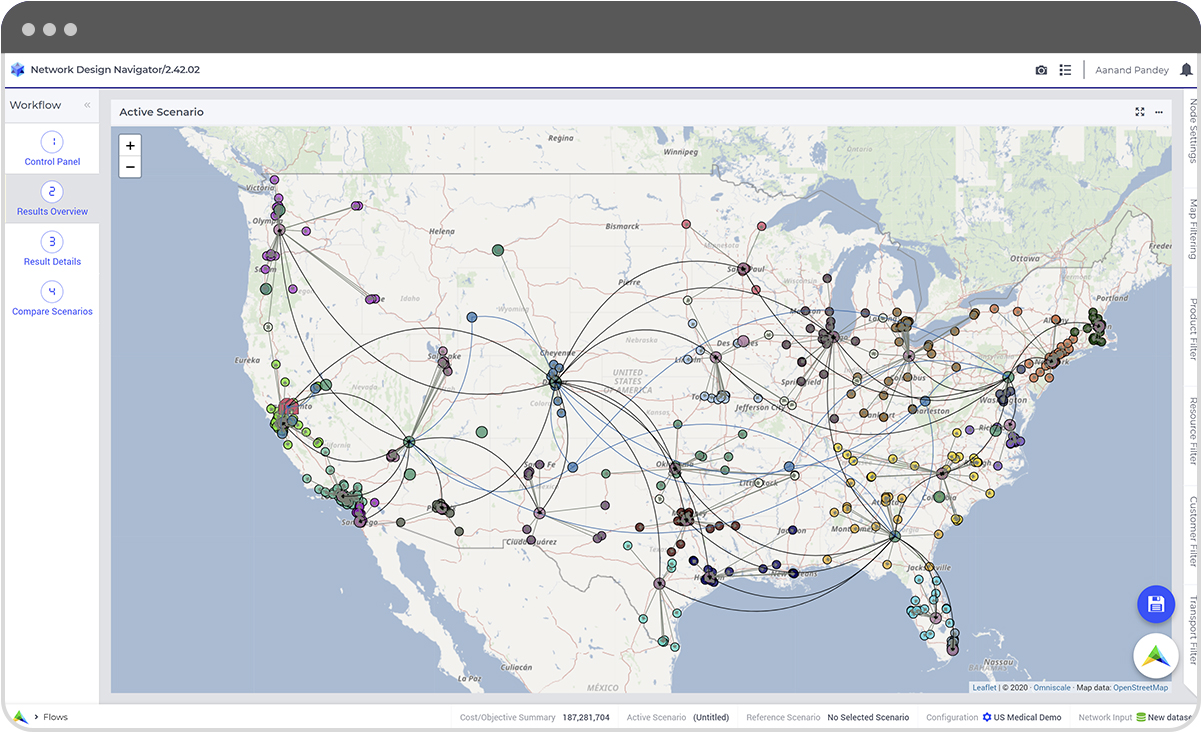 Operating globally with production facilities, suppliers, and customers in multiple countries presents continuity challenges.
AIMMS SC Navigator enables building multi-echelon network designs, incorporating node constraints and costs. It supports modeling unlimited locations, optimizing complex networks, and establishing resilient supply chains.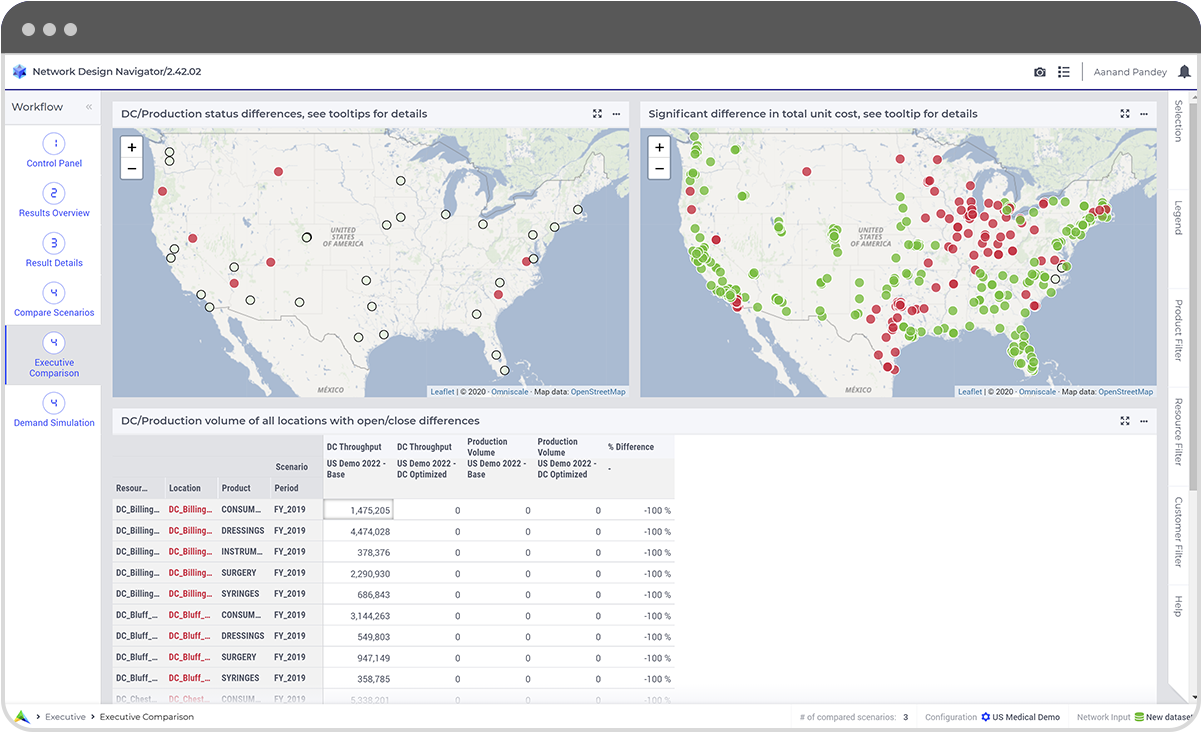 Volatility
in
demand
and
price
leading
to
excess
inventory
or
stockouts
Your Challenge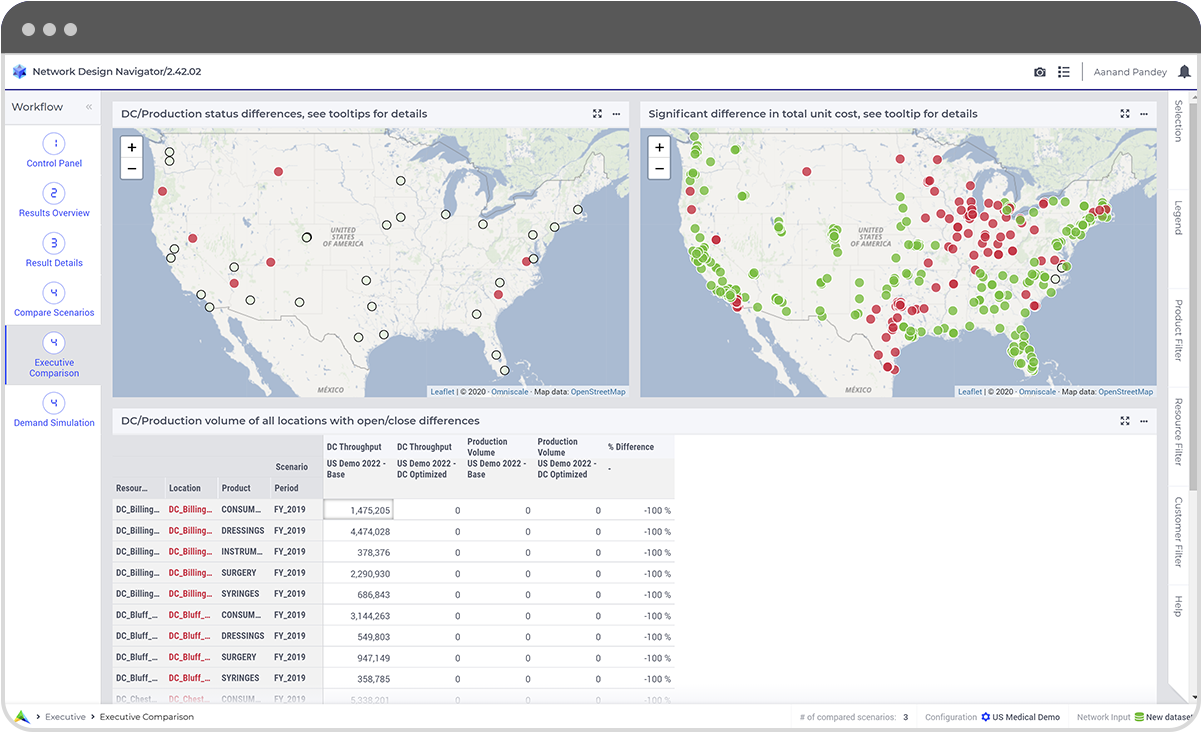 Inventory imbalances from demand fluctuations lead to excess inventory or stockouts.
AIMMS can assist by providing a multi-period outlook, planning for various demand scenarios, and optimizing customer fulfillment decisions. It helps determine the appropriate adjustments in supply capacity and maintains inventory balance to meet current and future requirements.
Managing
sustainability
and
environmental
impact
Your Challenge
With SC Navigator, sustainability metrics can be evaluated and optimized, and their cost and service level trade-offs can be measured. You can add carbon emissions, supplier risk index, water waste or any other sustainability metric through the custom objective functionality and optimize your network based on your targets. Each scenario's end-to-end impact on your entire network is also evaluated.
Vulnerability
to
supply
chain
disruptions
Your Challenge
Natural disasters, geopolitical tensions, cyberattacks, etc. can significantly impact supply chains. With SC Navigator you have the digital twin of your supply chain available allowing you to model various scenarios and understand the impact of each and how to tackle them.
Here's
how
our
solution
helped
other
customers
"The support team has worked with us to add new functionality that's essential for a complex supply chain and then roll it out across the board. They always go above and beyond."
Nafee Rizk
Operations Research Senior Manager at BASF
"AIMMS allows us to quickly answer very specific questions affecting our business. The benefits of optimizing our business based on those answers will fund the use of AIMMS prescriptive analytics for many years."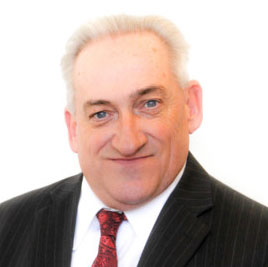 William Hargrave
VP of IT, GMQ NA Operations at Fresenius Medical Care
Get
a
deeper
understanding
of
how
our
capabilities
can
solve
your
supply
chain
problems.
You get a live demo. With a product expert. Not a salesperson.